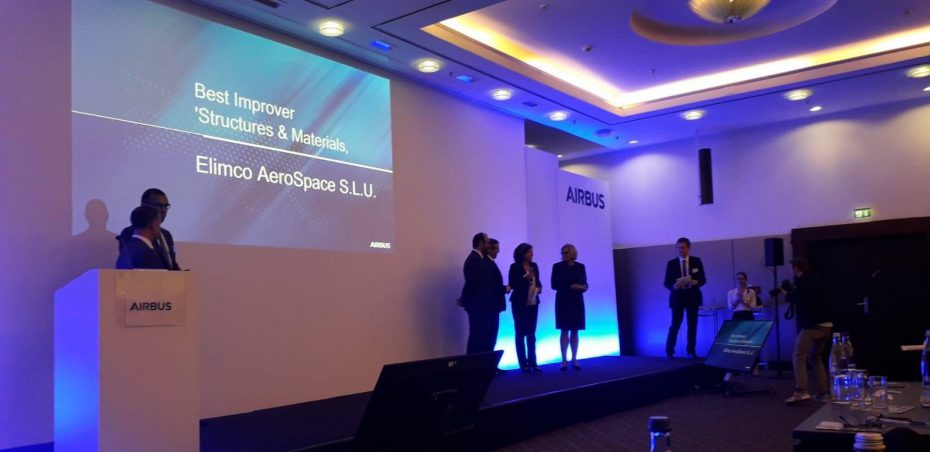 Elimco has received the «Best Improver Structures & Materials» award from Airbus during the «Airbus Defence and Space Supplier Conference».
The «Airbus Defence and Space Supplier Conference» held its fifth edition on May 17 in Munich, Germany. At this annual event, Airbus brings together its key suppliers to communicate its short-term strategies, and recognizes the suppliers that have excelled in performance, innovation and improvement over the past year.
Elimco AeroSpace has been awarded in the 'Structures & Materials' category with the 'Best Improver' award for its initiatives «focused on the continuous and sustainable improvement of its production processes, resources and personnel, using innovation as a transmission belt, standardization, coordination and management within the company», according to a press release issued by the winning company.
The company has highlighted that this award symbolizes <<A token of trust and support that we are deeply grateful to our main Customer, reflecting the profound change in our operation, flexibility, adaptation and technology capabilities>>.
The award-winning company has highlighted that «the hard work of the team in 2018, has allowed us to positively face a year of consolidation and lay the basis for 2019, to grow until retaking the historical positions of our company in an efficient and sustainable way and fully aligned with the -MOMENTUM- concept (presented at this conference by ADS)». Looking ahead, Elimco expects to grow by 25% in the 2019 financial year thanks to «the work of the Mercantil team, which is giving its best, and the backing of the parent company».
Among the attendees at this celebration were Airbus' top executives along with its most important supply chain suppliers for its aeronautics, defense and space business lines.
Source: http://fly-news.es/aviacion-comercial/organizaciones/premios-organizaciones/airbus-premia-elimco-aeroespace-best-improver-structures-materials/