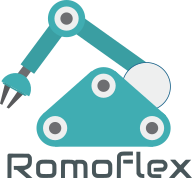 Project in which ELIMCO AEROSPACE participates in the development of a low-cost Robotized Mobile Platform for flexible and reconfigurable order picking in Andalusia.
The project, awarded in 2018, has a duration of 27 months and an overall budget of 1.2 M €. Its main objective is to develop a functional prototype that meets the handling needs present in a Lean manufacturing environment and serves as an incursion into the context of Industry 4.0 and the digitalization of the company. The project will have a solution studied for Elimco Aerospace's needs and tested under our specifications.
Consortium members include DGH Robotics, SYNERSIGHT and SOFTCRITS, and TECNALIA as a technology center.
This project is finance jointly by the European Union.